This wearable butterfly vibrator combines G spot and clitoris stimulation together, it's remote controlled. You can wear this adult toy in your panty, and let your partner to control it, suitable for masturbation or couple play.
Thrusting Dildo Hits Your G spot
This sex toy has dual motors, the dildo part thrusts to hit your G spot wildly, with powerful pulses. The tip just stimulates your G spot precisely , you can also switch the speeds and strength, to gain a better sexual experience! This realistic dildo part looks and works like a real penis.
Clitoris Massaging
The other part of this toy is for clitoris massaging. This part is soft and flexible, you can bend it to reach the right place, so your clitoris can be massaged while the dildo is stimulating your G spot. There are some grains on the surface, which can increase friction and give you more sexual pleasure.
Remote Control
This wearable butterfly female vibrator is remote controlled, so you can play this toy alone or with your partner. The toy can be controlled by remote in 8-10 meters. Let your partner hold this remote, then he can tease and flirt you during foreplay, which helps to gain more fun and more engagement during sex life.
Waterproof & Safe Silicone
This G spot and clitoral stimulator is 100% waterproof, you can use it in shower, bath or swimming pool. Plus the high quality medical silicone material, it's very easy to clean too. The vibrator is silent, you can nearly not hear the sound in 2 meters away.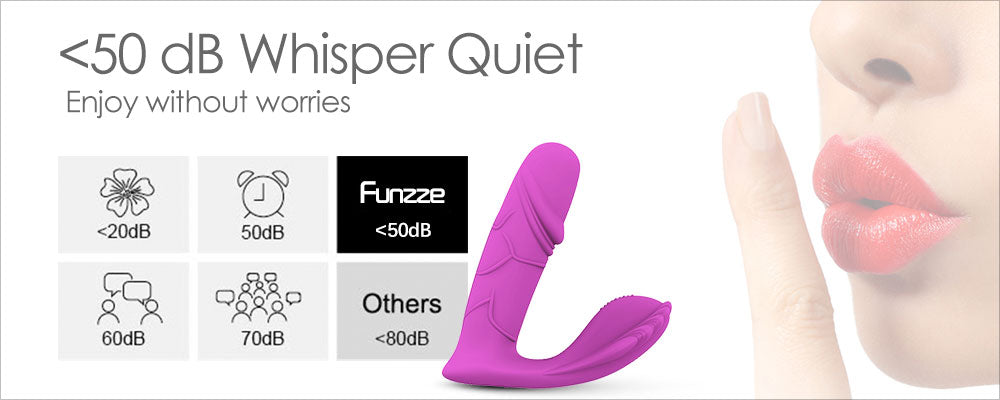 Magnetic USB Rechargeable
This thrusting vibrator is magnetic USB rechargeable, you don't need to worry about the battery dying. Very easy and fast to put the cable on the charging port. Just enjoy it whenever you want!
Product Specifications

Brand

Funzze

Product weight

0.45 lb

Color

Purple

Thrusting modes

7

Vibration modes

4

Motors

2

Noise

<50db

Material

Body-safe Silicone 

Charging type

USB rechargeable

Batteries
1 Lithium Polymer batteries required. (included)

Working voltage

3.7V

Battery capability

150 mA

Charing time

2-3 hours (duration time: 2-3 hours)

Waterproof

IP65

Discreet package

✓       

▶

Details
Package included
1x Vibrator
1x Remote control
1x USB Charging cable
1x Drawstring pouch
1x Manual
Warranty
We provide 1-year warranty, including refund & replacement. We commit to provide high quality sex toys and best customer service. Usually one purchased toy can apply for warranty only once. If you have any questions, feel free to contact us:
support@funzze.com
.
Wife loves it
Fun toy that the wife loves. Ive had a blast having her wear this toy well we drive around town running errands. I'll turn it on to stimulate her clit and then when shes laying back enjoying it I'll turn on the thrusting shaft part and watch her shake with pleasure.! Only issue is on/off switch is in front so if she has to adjust it sometimes she hits the switch.. Still a great toy to tease and pleasure your lady with when on the road!
Mixed feelings
The thrusting is too intense even on slowest setting. Overall, I wish it were softer and quieter but the vibrations are good
Wow
Amazing product, my wife absolutely loves it, just buy it now.
Butterfly pantie vibrator
I really enjoyed the moving male part of the toy. However the part that goes over the clitoral area was not really reaching my body well and the vibration not strong enough..they should make it with a clitoral sucker maybe instead. But I'm still getting use of the moving Male part of the toy so it's ok that I made this purchase and it's the 1st toy I have seen that does thing that it does best !💪❣
It's great, my boyfriend loves it and we're always bringing it into playtime. Honestly just go get it 🥰